How are Stress and Inflammation connected?
.
.
.
.
.
.
.
.
.
.
.
.
.
.
Do you have any stress in your life?
If you have stress, then you probably have increased inflammation in your body.
How are these two things connected? Let's start with stress. When you are under stress your brain signals your "stress glands" to kick into action. Your stress glands are also known as your adrenal glands. You have 2 adrenal glands and they are located on top of your kidneys.
Your adrenal glands produce cortisol and it can help you and harm you. If you don't have enough it if your may suffer with low blood sugar and/or inflammation.
If you have too much cortisol you may have problems losing weight.
Excess cortisol also causes damage to your brain; one area particularly affected is the hippocampus. Your hippocampus helps regulate emotions and memory.
So the cortisol from stress makes it more difficult to control your emotions which only leads to more stress! The more stressed you are the more inflamed your become.
Your adrenal glands also produce adrenaline. If you have low energy and fatigue you may not produce enough adrenaline. Adrenaline also helps control inflammation in your body and suppress inappropriate immune responses; like allergies.
You will notice that Blood Sugar has been placed before Stress/Inflammation on the functional medicine pyramid that I have created. This is because we don't want to put STRESS on your adrenal glands by forcing them to raise your blood sugar. Instead, you want to eat the kinds of foods that make it easy for your body to maintain blood sugar. When your blood sugar drops too low, it causes your brain to send out a "stress signal" to your adrenal glands; they respond this this as stress and cause a rise in blood sugar. We all have enough stress in our lives and don't need to add low blood sugar to the list of stressors we are dealing with.
Your adrenal glands perform other functions in your body, but I'm just going to focus on their role in stress and inflammation.
You will also notice that I have placed Stress / Inflammation below the Immune System on the functional medicine pyramid. This is because when the adrenal glands are not working properly they can't help support a healthy immune response.
When you get stressed and rundown do you think you are more likely to get sick?
The cortisol produced by your adrenal glands is also a natural steroid; much like prednisone. Have you heard of people taking steroids to reduce inflammation or suppress autoimmune conditions?
The inflammation and stress issue can also go in reverse…if your body is inflamed due to poor diet, poor gut health, nutrient deficiencies, poor detoxification, etc.; your body will be placed under more stress. So stress can cause inflammation and inflammation can cause stress.
It is impossible to separate these two major issues…they coexist. By reducing stressors on your body and reducing sources of inflammation, this whole level of the pyramid is restored to normal and healthy function.
If you suffer with Immune System problems you will have a hard time improving your situation if your natural stress glands /  immune-regulating glands (adrenal glands) are not working properly.
Sources of inflammation from poor gut health, nutrient deficiencies, poor detoxification or poor blood sugar regulation (especially high blood sugar or high insulin) will place a tremendous burden on your immune system.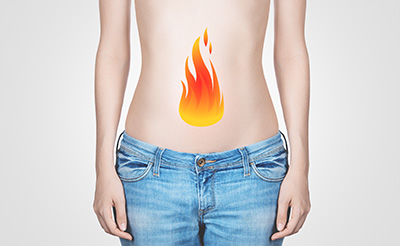 Now you see the relationship between stress and inflammation and how it will affect other systems of your body. The various systems of the body are connected like a web; I put them in a pyramid so you can see how they are related and the order they should be addressed.
For example, does it make sense that if you have an inflammation problem coming from the digestive tract that you would want to address that problem before attempting to support adrenal gland function? How can the adrenal glands get a break and heal if this constant source of inflammation from the gut is not addressed first? You need to quit pouring gasoline on the fire if you want it to go out…right?
In this case, the gut would be a root cause of poor adrenal gland function and poor inflammation control.
If you live in Geneva, Naperville, or another surrounding area AND are interested in learning more about functional medicine, give us a call today!
In my next article I will be covering Immune System which I have placed at Level #5 of the FMHP.
I hope you have found value in this information.
I wish you health, happiness and a better quality of life!
If you would like more information about functional medicine and integrative medicine or Dr. Sexton go to www.napervilleintegratedwellness.com
Do your own research, inform yourself and ask lots of questions. When collecting information, you MUST consider the source. There is no shortage of false, misleading, outdated, profit-driven and utterly biased information in healthcare today; even from the most respected sources and organizations.
This approach to healthcare is not intended to diagnose, treat, cure, mitigate, or prevent any disease. Why? The FDA enforces its position that these words can only be used with drugs. This approach does not use drugs.